The performance Ontheemd (displaced) was created in close collaboration between Marinke Eijgenraam and Geartsje van der Zee, driven by the desire to create a performance in the depths of a water well. This well would serve as a metaphor, a construction to access deeper layers. A cliché for something that imprisons you and a presentation of little hope. The well would create a social, intellectual, and emotional context: a clear shape standing for the limitation of your freedom of movement.

"My intention was to expose the confrontation with an unsettling truth that we prefer to ignore, leaving the audience unable to turn away. Through the performance, I aimed to orchestrate a complete sensory experience, where light, sound, performance, and set design were all equally crucial in captivating the spectator's senses"
Ontheemd takes place in a set consisting of different spaces. After the ten-person audience is relieved of unnecessary baggage, they are received in a cramped wooden box where they can stand side by side. Here, they wait to move one by one into a round enclosed space and take a seat around a wooden well. As they stare at the water surface at foot level, it is suddenly broken. The water flowing down introduces a depth of seven meters and provides a view of the bottom where a new water surface forms.
In this depth, a lone figure appears, joined by someone else over time. Moving forward, looking for their own place. Between collaborating and pushing each other away while creating your own space and togetherness, a difficult and unsustainable situation arises. From repression, drowning emerges. The water surface above them is set in motion by reaching hands searching for a way out. Drop by drop, the water begins to find its way, growing into a flood in which only one person remains standing. The tunnel is now devoid of effects: the ten spectators are no longer fed poetic images but are confronted with a lone figure who makes direct eye contact with them for the first time.
By then, the ten spectators are requested to leave the space.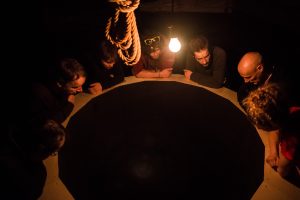 Loes van der Pligt – artistic director of the Mime Academy "The images I see deep below me evoke images of refugees, rubber boats, and drowning people. Images I have stored and sometimes suppressed because they were too intense and I didn't know what to do with them. Images that kept me awake, but that I had also forgotten. And here, in this small space, looking down where someone, soaked in water, looks up at me, all those images come back to life. But it also raises the question of what I do to help these people. And that is confronting and makes me very quiet."
2016
Concept and directed by Marinke Eijgenraam
Performance
Francesca Lazzeri, Leyla de Muynck, Dido van Oosten, Santino Slootweg, Isadora Tomasi
Setdesign
Geartsje van der Zee
Setdesign assistant
Zina Kisch
Sounddesign
Rinse de Jong
Lightdesign
Varja Klosse,
Lars Huijgen
Eerste inspicient
Jacco Windt
Production
Jimmy Pierre de Graaf
Rick Buscher
Special thanks to
technical departement Theaterschool Frits van Driel

Graduation performance at the Mime Academy, Ontheemd was nominated for the AHK Graduation Award 2016